Die Form (La Forma), es una banda francesa de darkwave/industrial formada por Philippe Fichot y Éliane P. en 1977. Sus letras hablan de violencia, sexo y muerte, su arte se caracterizó por la mezcla de músicas electrónicas oscuras(mas experimentales y ruidistas en sus primeros años), coros femeninos pseudosopranos, arte visual, danza y performance transgresores sado-masoquistas.
Die Form cargan consigo una vasta trayectoria de mas de 30 años que los convierten en un grupo de culto.
Por su puesto hay diferencia de atmósferas a lo largo de los años, por ejemplo, en los años 70s así como a principios de los 80s encontramos canciones de Die Form en recopilaciones de electrónica ruidista bastante experimental, ya en los en los 90s su sonido es mas convencional o accesible, no obstante, siempre han mantenido un nivel digno, oscuro y original en su sonido.
Philippe Fichot describe su arte fotográfico y visual en Die Form como
"Una exploración del erotismo subconsciente y de la poesía oscura del cuerpo humano."
En el año 1998 publican un material videográfico recopilatorio, no hace falta decir que es una completa delicia!.
Aquí
unas capturas de dicho material:
Les dejo este material de colección.
DIE FORM -VIDEOGRAPHY VOL 1 ( VHS TO DVD RIP)


Artista:
Die Form, D.F. Sadist School, Ukiyo

Sello:
Trisol Music Group

Fecha de lanzamiento:
31 de enero de 1998.

Formato:
AVI
Lista de tracks
Live Performance:
1 - Molecular Heart Agitation
2 - Bite Of Dog
3 - Sleeping Body Under Water
4 - Invisible World
5 - Spiral 1
6 - The Missing Beauty
7 - Masochist 2
Clips & Films:
8 - Martyrium 2
9 - Duality
10 - Anode Current
11 - Phenomena Of Visitation 3
12 - Mechano Fraktur
13 - The Hidden Cage
14 - The Visionary Garden (Book Demo)
15 - Transvisions (Titles Credits)
Descarga:
Parte 1
Parte 2
Parte 3
Parte 4
Parte 5
Parte 6
Parte 7
Parte 8
Ahora como un regalo extra, les dejo a descarga unos cuantos trabajos de Die Form, p
or supuesto se trata de material del mas antiguo y cutre de Die Form.
Puro antaño!.
Die Form - La Dimensione Umana. (1982)
a1. Niente di umano
a2. Ein, zwey...drei
b1. Are you before
b2. No kill
DESCARGA
Die Form - Die Form 1
01. Tension (1:29)
02. Base (2:24)
03. Toys 1 (3:36)
04. Blister 1 (3:54)
05. Andenken 2 (1:11)
06. Editorial (5:06)
07. Jazz (0:23)
08. Oper No. 1 (0:46)
09. Pyromaniac Tragik (0:35)
10. Switch On (4:31)
11. First Talks (3:42)
12. Anesthesia (1:36)
13. Toys 2 (2:22)
14. Tropicallmarch (1:20)
15. Wistfull Acid [Eva-Johanna Reichstag] (4:58)
16. Divertissement (4:33)
17. Speedwash (2:53)
18. Großmutter Traum (0:39)
19. Scaffhold 23 (2:04)
20. Swinging Cakes (1:48)
21. Childish Room 1 (3:58)
22. Childish Room 2 (2:38)
23. Ludwig's (1:03)
24. Please (1:30)
Die Form - Virgin Flavour 2 (1986)
01. Raped Flesh (10:18)
02. Your Reality (2:52)
03. Ritual (3:26)
04. Strates (2:22)
05. Usage (1:50)
06. Examination (2:44)
07. White Carnation (0:46)
08. Generique (0:59)
09. Carmel Snow ['86 Remix] (4:14)
10. Absolute Time (3:32)
11. Intermedia [Live] (3:58)
12. Final Days 1 (2:28)
13. Internation [Live] (1:38)
14. Wardance [Live] (1:20)
15. Dead Man (Suicide) (2:30)
16. Freitag 13 [Live] (7:48)
17. Observations Cliniques (2:57)
18. Mit Klangloser Stimme ['86 Remix] (1:55)
19. In/Form Cablature Of Desire ['86 Remix] (1:15)
Eva Johanna Reichstag & Die Form :
Zoophilic Lolita
/
Metabolist & Die Form :
Split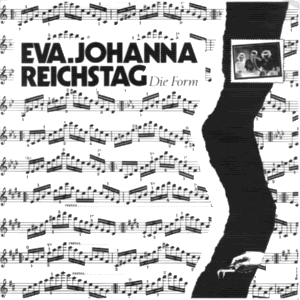 Eva Johanna Reichstag & Die Form :
Zoophilic Lolita
01. Zoophilic Lolita (6:03)
02. Tanz (3:44)
Metabolist & Die Form :
Split
01. Metabolist: Le Grand Prique (4:01)
02. Die Form: Situation Base (3:20)
03. Die Form: Gestual Equivoque (1:47)